Traditional Aleppo soap is made using the method of saponification by cooking noble vegetable oils, such as laurel berry oil for its soothing properties, and olive oil, for its richness in moisturizing agents.
Aleppo soap is the original solid soap. An ancestor of Marseille soap, it was born more than three thousand years ago in Aleppo in northern Syria.
How to make Aleppo soap
Based on olive oil and laurel berry oil, this pure vegetable soap is made using the method of saponification by cooking in a cauldron of vegetable oils. The soap paste is poured and smoothed into bets to dry before cutting. Once cut, Aleppo soap loaves are stored in a storage area sheltered from the sun to dry for at least 9 months before packaging.
Benefits and Virtues of Aleppo Soap
The virtues of Aleppo soap have been recognized for centuries. It is the specific properties of the oils that make it up that give it these exceptional virtues. The olive oil is known for its moisturizing and nourishing virtues. As for laurel berry oil is particularly known for its purifying, astringent, and disinfectant properties.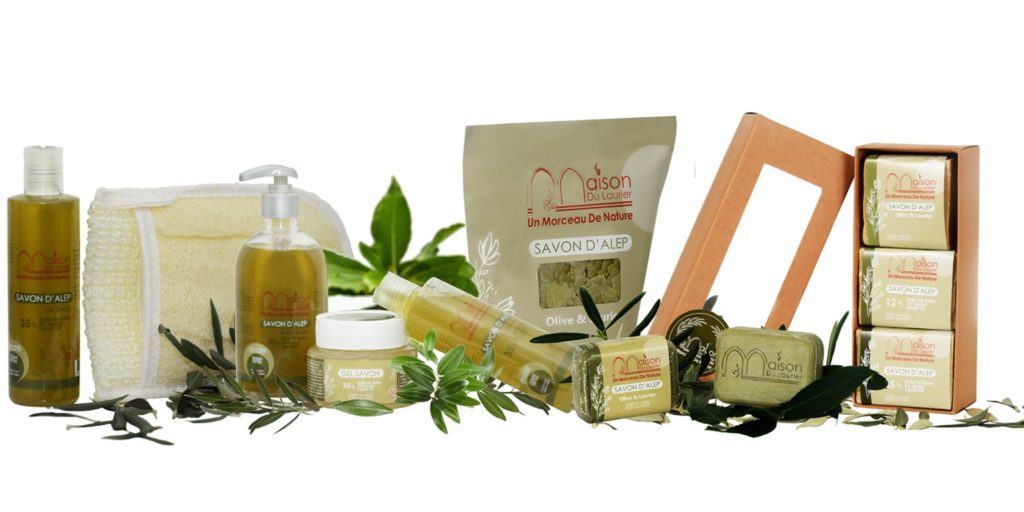 Savons
How do you choose your Aleppo soap?
Aleppo solid soap adapts to all types of skins.
ALEPPO SOAP Olive – Laurel
ALEPPO SOAP 12% Laurel Berry Oil
ALEPPO SOAP 20% Laurel Berry Oil
ALEPPO SOAP 35% Laurel Berry Oil
YOUR SKIN TYPE
All skin types.
Normal and/or sensitive skin.
Delicate skin.
Sensitive and allergic skin.
Property
Natural ingredients, the most economical.
Natural ingredients, the most economical.
Laurel oil content (avoid redness and irritation).
For extremely sensitive, irritated skin.

Suitable for people with more severe skin problems such as psoriasis or eczema.
Use
Daily Hydration Care
Daily Hydration.

Antiseptic Basic.
Daily Hydration.

Protection hydro-liquid active.
Daily
Hydration.
Active hydro-liquid protection.
Soothes problem skin.
Actively soothes dry skin problems.
Restores the PH of the epidermis.
Anti-rebellious dandruff.