THIS RANGE IS CERTIFIED 100 % NATURAL BY: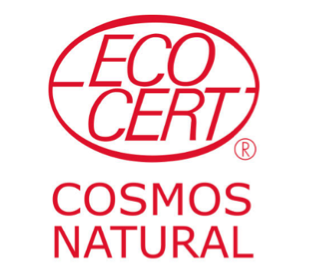 Cosmos NATURAL is a European standard that guarantees that no synthetic chemical has been used to grow these ingredients.
The COSMOS regulation on truly organic cosmetics is extremely strict, especially in Europe. In addition to the above, the COSMOS standard also guarantees that products are never tested on animals, contain no GM ingredients, and that all ingredients are fully traceable. 
WHAT DOES THIS RECENT CERTIFICATION OF COSMOS MEAN FOR THE LAURIER HOUSE?
We are proud to be a master soap maker, craftsman and manufacturer of an authentic Aleppo soap MANUFACTURED EXCLUSIVELY IN ALEPPO in SYRIE and to be certified COSMOS NATURAL.
Made by the expert hands of our master soap maker, this range will delightfully accompany your moments of relaxation while respecting your skin, human and the environment.
This range of soap answers to the demand and quality of our customers. The specifications provide the consumer with an exceptional product.
You will find a full range of real Aleppo soap (several percentages of laurel berry oil), and in different forms (solid, liquid, gel)
WHAT DOES OUR NATURAL COSMOS CERTIFICATION COVER?
Our COSMOS NATUREL certification covers in detail all aspects of the supply, manufacture, marketing, and control of cosmetic products.
Our Approved Certification Organization inspects each of these aspects when certifying our products.
1. ORIGIN AND PROCESSING OF INGREDIENTS
A set of standards is set up to guarantee you the best traceability. Standards for water, ingredients, physically processed Agro-ingredients, chemically processed Agro-ingredients, and other ingredients.
2. COMPOSITION OF THE FINISHED PRODUCT
All our products are registered with the CPNP "Cosmetic Product Notification Portal" with INSI ingredients and comply with European standards.
All our data sheets have the indication of the ingredients before saponification and after saponification.
3. STORAGE AND EMBALLAGE
• All our packaging respect the environment.
• Packaging 100 % recyclable and environmentally friendly.
4. ENVIRONMENTAL MANAGEMENT
To obtain the label, it is necessary to be able to detail and meet the requirements for environmental protection throughout the process of production and management, reduction, and recycling of waste.
5. LABELLING AND COMMUNICATION
We ensure clear labelling of products, to guarantee all necessary information to consumers.
All our labels are checked by our body certifying before printing.
YOUR 15 ADVANTAGES:
• COSMOS NATUREL certified Aleppo soaps are safer for sensitive skin that are prone to irritation.
• Aleppo soaps certified COSMOS NATUREL help to nourish the skin, as they contain "vegetable" olive oils and very moisturizing thanks to bay berry oil. (Use of virgin olive oil and laurel berry oil).
• It is a suitable soap for daily shampoo, facial cleansing, hands, and whole body, in the bath or in the shower.
• It is vegan.
• Not tested on animals.
• They are beneficial to the health of the skin.
• Do not contain strong and unnatural fragrances.
• Formulas and packaging are more environmentally friendly, as part of a more important eco-responsibility.
• Our products do not contain: Parabens, ethyl alcohol, phenoxyethanol, DEA, BPA/phthalates
• Without GMOs
• Without palm oil
• Without petrochemicals
• Phthalate free
• No micronized titanium dioxide
• No lead
• Ingredients: HV Olive saponified, HV Laurier saponified bays, water, glycerin.
• Ingredients INCI: Sodium olives, Sodium Laurate, Aqua, Glycerin.